Campus Ministry Home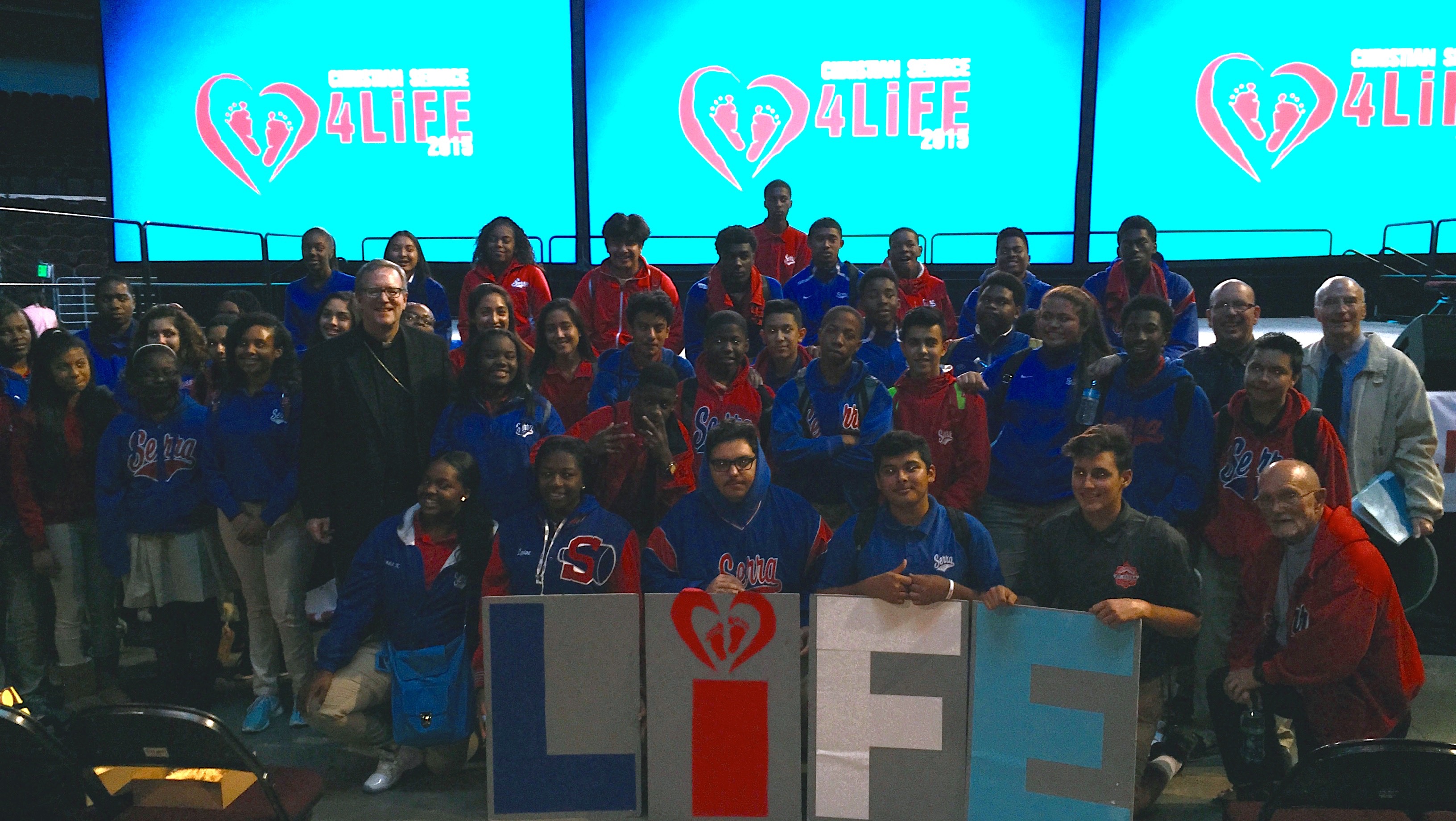 Welcome to Junipero Serra's Campus Ministry page. Home of The LIFE Team!
Campus Ministry News
Junipero Serra's motto "Siempre Adelante"

Always Forward

is what we are living at this time.  Recent events have made it necessary that we shift our focus for continuing the Christian Service Journey. 

Until further notice many Campus Ministry/LIFE Team events have been modified.
Note: Please see the other campus ministry pages for more details on retreats and Christian service.
Prayer
Here at Serra you will find students, faculty, staff, & parents in prayer together. Families pray together, and we are no exception. In addition to the prayer and faith instilled by our faculty, campus ministry aims to provide our students opportunities to grow in their prayer life.
Families pray for one another. 
Please let us pray with and for you
by clicking here.
Mass
You may be familiar with the line "A family that prays together stays together". These words from Fr. Patrick Peyton are words that hold true for us here at Serra. Every month we gather as a Serra community to celebrate our faith with one another. 
July 13, 2021 (Freshman Mass)

August 27, 2021 (

Welcome Back, Inauguration)

September 8, 2021 

October 7, 2021 (Homecoming)

November 2, 2021 (All Souls Day)

December 8, 2021 (Immaculate Conception)

January 13, 2022

February 16, 2022 

March 2, 2022

(Ash Wednesday)

April 28, 2022

May 18, 2022
Confession
On special occasions throughout the year, priests from across the archdiocese join us to share this Sacrament with our entire student body. 
November 16, 2021
March 23, 2022
Adoration
Between classes, projects, homework, clubs, sports, and the numerous opportunities on campus, it is important that we make some time for quiet. In Adoration, we make this quiet time intentional and prayerful. It is another opportunity for our students to work on their interior lives. 
September 23, 2021
October 20, 2021
November 10, 2021
January 26, 2022
February 10, 2022
March 16, 2022
April 1, 2022
May 11, 2022


Retreat Program
Our retreat program empowers each student to explore and grow in their faith life. We provide each class level their own unique retreat experience beginning with their freshmen retreat and concluding with their senior retreat. Themes of community, faith sharing, moments or prayer and self reflection are built in each retreat which provides for a true encounter with Christ. 
Frosh Orientation & Pre-Retreat -

August 9, 2021

Cavaliers for Christ Freshman Retreat -

August 10

—

11, 2021

Sophomore Class Retreat "Lo

ve No Matter What" -

September 16, 2021

Junior Class Retreat - "The Great I AM" -

February 4, 2022

Senior Class Retreat - "Astonished" -

January 19-21, 2022, or March 9-11, 2022
LIFE Night
Our

LIFE Night has a designated scripture and theme each month.  We provide an environment in the cafeteria on a Tuesday evening where we gather building camaraderie, community and fellowship, proclaim how good God is, all of the time, break bread together and send one another  
back 
forth into the world knowing that we belong to a community that is 
empowered

 to live out the Gospel.  
September 7, 2021
October 12, 2021
November 9, 2021
January 25, 2022
February 8, 2022
March 29, 2022 
April 12, 2022 
Stations of the Cross
March 25, 2022 (Chapel)
April 1, 2022 (Chapel)
April 8, 2022 (Live in gym)
God bless you and your families! 
The Campus Ministry Team 
| | | |
| --- | --- | --- |
| | | |
| Mr. Paul Murphy | Fr. Ken | Joe McDorman |